EVENTS
FUV and Friends Summer Showcase
July 26, 2021 @ 9:00 am

-

5:00 pm
The

Summer Showcase

will be open to

media

,

Arcimoto shareholders

,

analysts

,

owners

, and

pre-order customers

by

invitation only

.
Event Details:
Arcimoto will debut its production Roadster, designed to be the ultimate electric on-road fun machine, and the newest production EV to be built on the modular Arcimoto Platform.

The company and its partners will showcase advanced vehicle technologies together aimed at fulfilling the Company's mission to catalyze the shift to a sustainable transportation system.

Arcimoto's current product family, including the Roadster, Fun Utility Vehicle, Rapid Responder, Deliverator, Cameo, and motorcycles equipped with Arcimoto's patented Tilting Motor Works TRiO accessory will be available to test drive on the historic raceway.

The Summer Showcase will be open to media, Arcimoto shareholders, analysts, owners, and pre-order customers by invitation only.

More Information on Arcimoto Roadster
Event Schedule:
9AM: Gates Open
9:45AM-12PM: Main Stage Event
11:45AM-12PM: Opening Lap
12PM-4PM: Test Drives
4PM-5PM: Social Hour
5PM: Events Ends
Event Location:
Location: Portland International Raceway
Address:
1940 N Victory Blvd, Portland, OR 97217
Google Maps Link: Link
Event Map 🗺
PNG:
Event Map PDF: FUV-and-Friends-Summer-Showcase-Event-Map_2021726
Check In:
Gates Open at 9AM.
When arriving at the FUV and Friends Summer Showcase at Portland International Raceway, the ticket check-in is located at the Main Entrance just west of the Delta Park/Vanport. When entering from N Expo Road onto W Delta Park, the Main Entrance is the first available left hand turn. 
Please have your FUV and Friends Summer Showcase EventBrite Ticket prepared in the form of a physical print out, and/or a digital PDF that is scannable on a smartphone or tablet device of some kind. A ticket is required for entry to the event. A Staff member will be scanning these upon entry at the Main Entrance.
For those interested in bringing additional friends and/or family, please have them use this FUV and Friends Summer Showcase Ticket Link to register for additional tickets.
Press Check In:
Suggested arrival time of 8:30AM
Please follow the above "Check In" procedure, provide additional press credentials, and immediately proceed to the Arcimoto Booth to check in. 
Press and Media are invited to participate in some additional food and beverage services on site designated for Arcimoto employees only. An Arcimoto staff member will let you know of this location upon check in. 
Press Contact: Jonathan Miller, Arcimoto Communications, (415-868-5660), miller@arcimoto.com
Parking 🚘
Attendees/Press: After following the "Check-In" guidelines, you will be directed to the Parking Lot onsite by a Parking Staff Member.
Booth Vendors: Arcimoto Staff will direct you to an area located onsite to park near the Traffic Way section labeled on the Event Map. This is an area where vehicles can remain during the event.
Test Drives and a Friendly Note Regarding PIR Regulations:
In order to ride the FUV on the track, closed-toed shoes and a valid driver's license are required. Additionally, in order to ride the Roadster, riders must wear closed toed shoes, have either a two or three wheel Motorcycle Endorsement, wear a helmet (loaner helmets will be available), and wear both long sleeves and long pants. Track rules!
To participate in a Test Drive, please proceed to the Test Drive booth indicated on the Event Map. You'll need to line up in the queue and fill out the required registration form before being directed to an Arcimoto Orientation Officer. The Arcimoto Orientation Officer will familiarize the driver/rider with the vehicle, explains the test drive loop, and if requested, drives with Test Driver/Rider if they request being a passenger.
The Test driver is required to keep a minimum of 3-4 vehicle lengths to ensure maximum safety during the Test Drive Lap.
If for any reason during the Test Drive Lap a Test Driver no longer feels comfortable driving, and/or something is not right with the vehicle, perform the following:
Check your surroundings.

Slow down the vehicle.

Pull off to the side of the track and wait for a

Raceway Corner Worker

to notify the

Test Drive Location

of the issue.

An Arcimoto response team will rush to your vehicle and assist in getting the Test Driver and will safely return you and your vehicles to the Test Drive Booth location.
Music Performances 🎤
Jen Forti

Uncle John and the Frohnmayer Band

Marv Ellis Band

Groovemaker

Solovox
Food Trucks Available at Event 🍕🌮🍱
See Event Map for Location Details
Bamboo Jax

Fire Box Foods 

Taco Cart
Restrooms/Drinking Fountains 🚻
There are both Restroom facilities and drinking fountains onsite to accommodate attendees. Please see Event Map for details.
Suggested Items to Bring ☀️🕶🧢
Sunblock

Hat

Sunglasses

Refillable Water Bottle

Money
Tag Your Experience on Social Media During the Event! 🥰😎✌️🤟🦄
#fuvlife
#fuvandfriends
#arcimoto
Event Promo 🎥
EUGENE, Ore., June 3, 2021 – Arcimoto, Inc.® (NASDAQ: FUV), makers of fun, affordable, and ultra-efficient electric vehicles for everyday drivers and fleets, today announced the FUV and Friends Summer Showcase will take place at the historic Portland International Raceway (PIR) on Monday, July 26.
Arcimoto plans to debut the Roadster, designed to be the ultimate electric on-road fun machine, and the newest EV to be built on the modular Arcimoto Platform. The company will also outline its vision for self-driving, rightsized electric vehicles, followed by live technology component demonstrations. FUVs and Tilting Motor Works trikes will be available to ride on the historic raceway.
"At the end of the day, sustainable transportation is a social networking exercise. If we are to collectively solve the very present and enormous challenge in front of us, we have to work together," said Mark Frohnmayer, Arcimoto Founder and CEO. "Which is why I'm incredibly humbled and honored to showcase the work of our team and our partners. Arcimoto has been joined by a crew of legends to help push on multiple fronts toward our shared purpose. As we look forward to kicking off mass production next year, we have some very exciting developments to share, and there's no better place to demonstrate them than the historic Portland International Raceway."
The FUV and Friends Summer Showcase will be open to media, Arcimoto shareholders, analysts, FUV owners, and pre-order customers by invitation only. To request a ticket, send an email to summershowcase@arcimoto.com.
Portland International Raceway (PIR) is the home of the Grand Prix of Portland. PIR is a 1.964-mile, 12-turn racetrack. Permanent road course owned by the City of Portland and operated under the Portland Parks and Recreation. Opened in 1960 to host sports car and drag racing, the 268-acre property hosts over 550 events annually including automotive and motorcycle road racing, motocross, and other special events including the Rose Cup Races.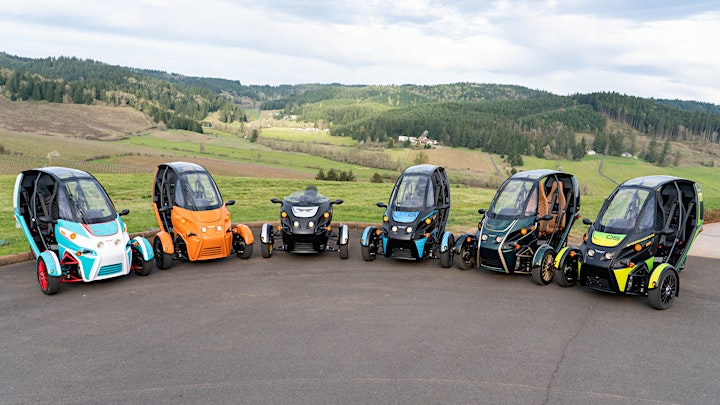 About Arcimoto, Inc.
Arcimoto (NASDAQ: FUV) develops and manufactures ultra-efficient and affordable electric vehicles to help the world shift to a sustainable transportation system. Now available to preorder customers in California, Oregon, Washington, and Florida, the Arcimoto FUV® is purpose-built for everyday driving, transforming ordinary trips into pure-electric joyrides. Available for preorder, the Deliverator® and Rapid Responder™ provide last-mile delivery and emergency response functionality, respectively, at a fraction of the cost and environmental impact of traditional gas-powered vehicles. Two additional concept prototypes built on the versatile Arcimoto platform are currently in development: the Cameo™, aimed at the film and influencer industry; and the Roadster, designed to be the ultimate on-road fun machine. Every Arcimoto vehicle is built at the Arcimoto Manufacturing Plant in Eugene, Oregon.

For more information, please visit Arcimoto.com.
Safe Harbor / Forward-Looking Statements
Except for historical information, all of the statements, expectations, and assumptions contained in this press release are forward-looking statements. Forward-looking statements include, but are not limited to, statements that express our intentions, beliefs, expectations, strategies, predictions or any other statements relating to our future activities or other future events or conditions. These statements are based on current expectations, estimates and projections about our business based, in part, on assumptions made by management. These statements are not guarantees of future performance and involve risks, uncertainties and assumptions that are difficult to predict and include, without limitation, our expectations as to vehicle deliveries, the establishment of our service and delivery network and our expected rate of production. Therefore, actual outcomes and results may, and are likely to, differ materially from what is expressed or forecasted in the forward-looking statements due to numerous factors discussed from time to time in documents which we file with the SEC. In addition, such statements could be affected by risks and uncertainties related to, among other things: our ability to manage the distribution channels for our products, including our ability to successfully implement our rental strategy, direct to consumer distribution strategy and any additional distribution strategies we may deem appropriate; our ability to design, manufacture and market vehicle models within projected timeframes given that a vehicle consists of several thousand unique items and we can only go as fast as the slowest item; our inexperience to date in manufacturing vehicles at the high volumes that we anticipate; our ability to maintain quality control over our vehicles and avoid material vehicle recalls; the number of reservations and cancellations for our vehicles and our ability to deliver on those reservations; unforeseen or recurring operational problems at our facility, or a catastrophic loss of our manufacturing facility; our dependence on our suppliers; changes in consumer demand for, and acceptance of, our products: changes in the competitive environment, including adoption of technologies and products that compete with our products; the overall strength and stability of general economic conditions and of the automotive industry more specifically; changes in laws or regulations governing our business and operations; costs and risks associated with potential litigation; and other risks described from time to time in periodic and current reports that we file with the SEC. Any forward-looking statements speak only as of the date on which they are made, and except as may be required under applicable securities laws, we do not undertake any obligation to update any forward-looking statements.
Public Relations Contact:
Megan Kathman

(651) 785-3212

pr@arcimoto.com
Investor Relations Contact: